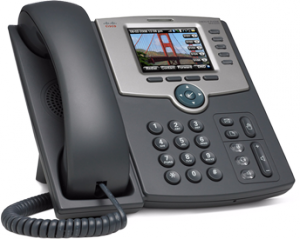 We offer low-latency internet connections and a rich digital phone system with enterprise features like hunt groups, call attendants, fax to email conversion, call forwarding and more. No peak or off-peak pricing and competitive low rates for local, long distance, and toll free calling.
An anywhere access online interface allows you to manage your phone system securely. Save more when you bundle your service with Internet.
Included Features
Call Forwarding – Busy
If your line is busy, the call is forwarded to a preselected number.
Call Forwarding – Variable
Forward your calls to any number, including your mobile phone.
Caller ID
Shows the caller's name, number, and other information on your display unit before you answer.
Call Waiting
Receive a call while you're on another call.
Hunt Group
Hunt Group automatically routes calls from a busy phone line, to one that is free.
Speed Dialing – 8
Save time. Program up to 8 frequently called numbers to reach your clients quickly and conveniently
Three Way Calling
Easily add a third person to a conversation to consult and make business decisions quickly.
Basic Voice Mail
Store up to 30 voice messages for 31 days.
Voice Mail Forwarding
Forward calls to your main voice mailbox. Primarily used with hunting. Requires Basic Voice Mail.
Equipment & Installation
Acceleration offers several different phone options to choose from. Choose from our list of the latest Digital phones.
Cisco SPA525G 5-line IP Phone with Color Display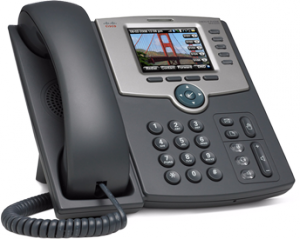 The Cisco SPA series is legendary for their great cost/quality ratio. An excelent 'Small and Medium Business' phones.
Full-featured and stylish 5-line business IP phone supporting up to two SPA500S (32 button) expansion modules
Enhanced connectivity, with Power over Ethernet, 802.11g Wi-Fi client mode, and Bluetooth headset support
Graphic-rich, high-resolution 3.2-inch QVGA 320 x 240 color screen
Simple, easy, and highly secure wireless setup with industry-standard push-button WPS and quick provisioning capabilities for mass-scale service provider activation
Embedded SSL VPN client for secure phone connectivity to your IPPBX over any public internet connection
Support for multimedia functions, such as playing MP3's, displaying digital photos, viewing RSS feeds, and displaying video surveillance camera streams
Multi feature support, such as caller ID, call forwarding, call transfer, 3-way conferencing, call parking, call history, phonebook, and built-in full-duplex speakerphone
Supports both SIP with SPA9000 or leading third party call control platforms and SPCP Protocols with Cisco Unified Communication 500 Series
---
Cisco Small Business SPA504G 4 Line IP Phone With Display, PoE and PC Port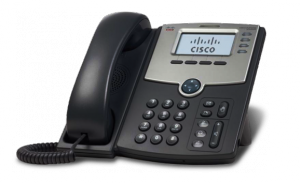 Part of the Cisco Small Business Series, the SIP-based Cisco SPA 504G 4-Line IP Phone has been tested to ensure comprehensive interoperability with equipment from voice over IP (VoIP) infrastructure leaders, enabling service providers to quickly roll out competitive, feature-rich services to their customers. With hundreds of features and configurable service parameters, the Cisco SPA 504G addresses the requirements of traditional business users while building on the advantages of IP telephony. Features such as easy station moves and shared line appearances (across local and geographically dispersed locations) are just some of the many advantages of the SPA 504G.
2 100baseT RJ-45 Ethernet Ports (IEEE 802.3, including 802.3af)
Handset: RJ-9 Connector
Built-in Speakerphone and Microphone
Headset 2.5 mm Port
Wired VoIP
FAQs
Can I keep my existing phone number?
Yes, you can transfer any telephone number (including toll-free lines).
Can I keep my current long distance carrier(s) and use Acceleration for local calling only?
Acceleration only offers a combined unlimited Local/ Nationwide Long Distance call package to maximize your savings. Selection of other carriers for any type of long distance is not possible.
How many extensions can a single phone line have?
Each Phone line can serve as an extension, so the number of extensions you desire depends on the amount of phone lines your business has.
How many voicemail boxes can a single phone line have?
Each Phone line can have one voice mailbox, and can be added to any full-featured phone line or any basic phone line.
Can I forward calls from my digital phone to a any phone number?
With the included Call Forwarding feature, you can forward calls to any U.S. telephone number. This includes mobile and landline telephones. You can use either Call Forwarding Selective, or Call Forwarding Variable to meet your needs.
Can I add a toll-free number, or several, to a plan?
Yes, Acceleration supports toll-free numbers and can be added to any phone plan.
Do I need any special equipment for my digital service?
Acceleration provides an equipment fee that is required to deliver service on premises.
Plans & Pricing
To determine the cost of your service, we would need to define your needs and test the internet connection at your location. Once we have the specification, we'll put together a detailed estimate with cost information.
Discounts apply, when you bundle your service with Internet.