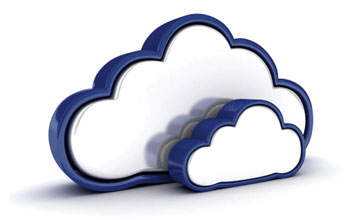 Cloud computing is a concept that describes a situation where users of computer systems are consumers without any knowledge of where the actual network is physically located, how the systems are configured, who operates them, and so on.
A better way to think of cloud computing is, perhaps, to think of electricity in general. Electricity is usually already on when you move somewhere, and is taken care of with a phone call and a check in the mail. Electricity powers many different kinds of tools in a house or business, and serves many, many functions, but the consumer doesn't ever really know where exactly the power is coming from, who is managing the distribution of the electricity they are consuming, and the consumer is easily replaceable. As soon as that consumer moves out, another consumer moves in with no consequence to the electricity providers. It works the same way for cloud computing providers.
Cloud computing has a lot of economic, production, and managerial benefits that make cloud computing providers highly sought out by businesses. Some cloud computing technology has even made its way down to the individual consumer for personal use. A lot of companies have now surfaced offering off-site hard drive backup and storage, as well as ways to access a home computer from anywhere with Internet access. The most basic form of cloud computing is already used by the vast majority of Internet users. Common email programs that are web based, like Gmail, Yahoo Mail, etc., do not require users to install and launch a program on their home machines. Users simply log on to the Internet and access their email archive which is stored off-site.
For the business owner, a cloud computing provider can be crucial to daily operations. To allow staff access and use of basic, essential software applications, a business owner must not only purchase technology for each individual and have it maintained, but must also pay for the licensing of the software on each individual computer or device. The larger the pool of users, the larger the cost. Expanding the workforce would also expand the cost, as more software and technology would have to be purchased. Instead of this costly cycle, a cloud computing provider can offer a much easier and cost effective solution that will allow staff to log in to a network and access the applications needed to perform their job functions. A plethora of software programs and applications can be installed on one machine and be easily accessed and shared by a larger pool of workers.
Cloud computing technology works in two ways; one aspect is seen by the client, the other is seen by the cloud computing provider. The cloud computing provider has on its end all the technology, hardware, databases, and the like that is used to provide the client with its front end and services, which is usually accessible via the Internet and uses programs known as "middleware" to communicate. The cloud computing network is managed by an administrator that monitors and troubleshoots the system and ensures it runs smoothly. Cloud computing providers require a lot of hardware for storage to copy all of the client's data in the event of a crash.
In addition to allowing users to access data and applications from anywhere with a computer that has an Internet connection, and allowing a large workforce to use the same applications and software, cloud computing providers give businesses the ability to access the best software for specific needs without having to commit to buying a large and costly software package. Cloud computing providers have the means to provide businesses with custom and evolving software solutions to meet specific and changing needs. Cloud computing providers also often times save businesses money on technical support and IT services.
Acceleration Virtual Dedicated Server hosting is a form of cloud computing, allowing you to run your own virtual server within our cloud. We provide the resources (underlying hardware, network connectivity, storage, etc.) so all you have to worry about is deciding on which software to install on your server. Never again will you have to worry about costly hardware upgrades or hardware failures.
Please feel free to contact us if you have any questions, or if you're ready to have a virtual server configured, take a look at our virtual dedicated server plans.